Amakipkip discontinues AKA's tribute T-Shirts
Apology issued to the Forbes family and AKA's fans
Amakipkip clothing brand apologises to the Forbes family and AKA's fans – The Megacy for producing tribute T-shirts with the rapper's face on them without seeking consent from his family.
The brand announced the tribute t-shirt a few days ago, which was to pay homage to the rapper whose name is Kiernan Jarryd Forbes.
Nadia Nakai, Steffan Forbes and some supporters of the late rap star frowned at the innovation.
Taking to social media, the brand dropped a statement in explaining the reason behind the tribute t-shirts.
An apology was issued to the family and people who feel offended by their tribute.
In conclusion, Amakipkip discontinued the shirt.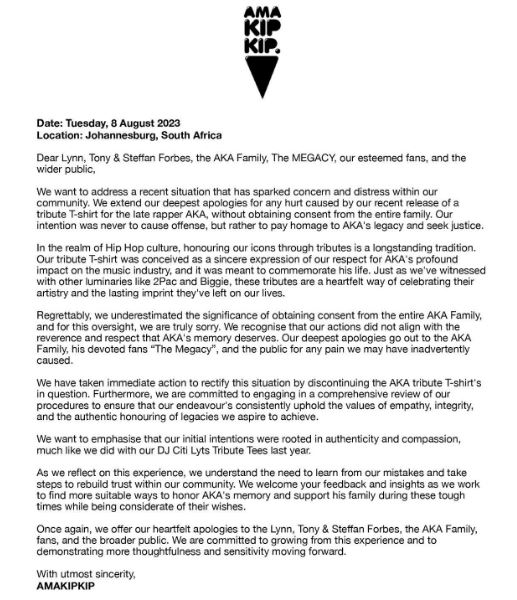 "We would like to publicly apologise to Lynn, Tony, Stefan Forbes, The AKA Family, The Megacy, Our Fans & General Public," the brand captioned post.
However, some people claim they do not need to apologise to the family or seek consent.
"You didn't need to seek permission, they don't own the likeness nor are they seeking justice. They just want to make money & you have invested so much in SA Hip-hop culture you have every right to exploit that," Nota Baloyi exclaimed in the comment.