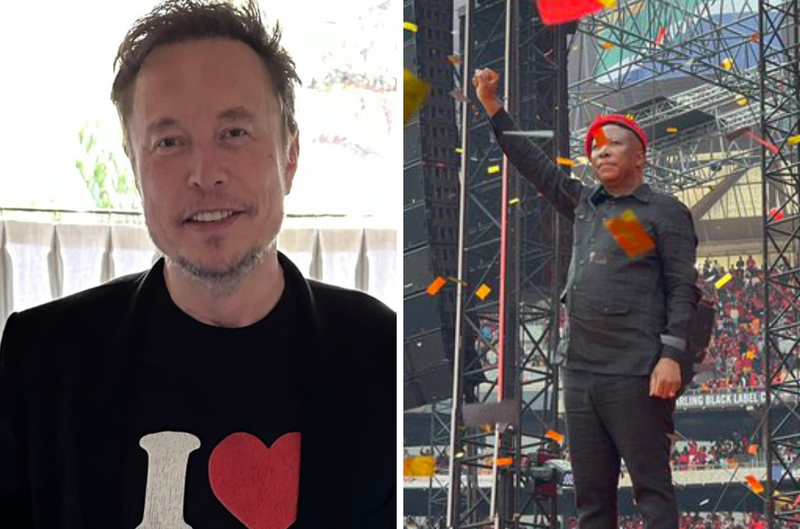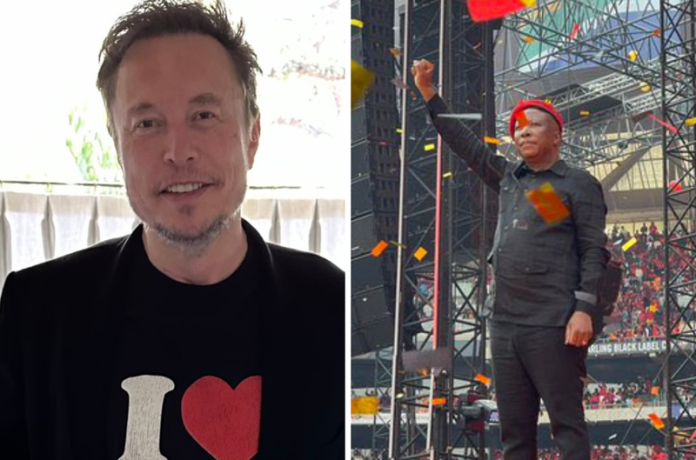 The EFF leader Julius Malema has hit back at South African-born billionaire Elon Musk, who called on President Cyril Ramaphosa to take action against Malema after they sang the song "Kill the Boer" at the party's birthday celebrations on Saturday.
EFF LEADER MALEMA DEFENDED THE SONG 'KILL THE BOER'
Malema clapped back at Musk, suggesting he was talking nonsense.
"O bolela mas*pa (you are talking sh**)," he said.
In August last year, the Equality Court in Johannesburg ruled that the use and singing of the struggle song did not constitute hate speech or incite violence. The court found that AfriForum, the organization that took the matter to court, had failed to show that the lyrics of the song were based on prohibited grounds in the Equality Act.
THE USE AND THE SINGING OF THE SONG DID NOT CONSISTUTE HATE SPEECH OR INCITE VIOLENCE
"The objective evaluation does not constitute hate speech but rather has to be protected under freedom of speech," said judge Edwin Molahlehi. "AfriForum failed to prove the song constitutes hate speech. The matter is dismissed."
The EFF posted the court ruling on their Twitter account on Tuesday.
MALEMA'S TWEET WAS MET WITH MIXED REATIONS
Malema's tweet has been met with mixed reactions. Some people have supported him, saying that he is right to defend the song, while others have criticized him, saying that the song is offensive and should not be sung.
ALSO READ: Elon Musk loses R363 billion in 24 hours as Tesla shares tumble
Here are some additional information:
The song "Kill the Boer" is a struggle song that was first sung by the African National Congress (ANC) during the apartheid era.
The song has been criticized by some people for being offensive and inciting violence.
The Equality Court's ruling on the song was controversial, and some people have called for the ruling to be overturned.
The EFF has defended the song, saying that it is a part of South Africa's history and that it should be protected by freedom of speech.
ALSO READ: Trending Twitter video: 360 view of the FNB Stadium, EFF celebrates their 10th Anniversary
ALSO READ: EFF to pay for funeral of supporter who died at party's celebration
MALEMA CLAPPED BACK MUSK SAYING HE IS TALKING NONSENSE
Meanwhile, Ernst Roets, head of policy and action at the civil rights organization AfriForum, said in response to Musk's tweet that Ramaphosa was silent because "he publicly denies the existence of the problem and wants to keep the back door open for a coalition with the EFF."
ALSO READ: Here is what EFF Julius Malema said during the celebrations
The South African musician and YouTuber David Scott, better known as The Kiffness, also responded to Musk's tweet.

"Thanks for saying something, @elonmusk. Sunlight is the best disinfectant. Congratulations @Julius_S_Malema, your bigotry and division is on the world stage for all to see now."

The Kiffness
ALSO READ: EFF supporter falls to death at FNB Stadium during 10th birthday celebrations