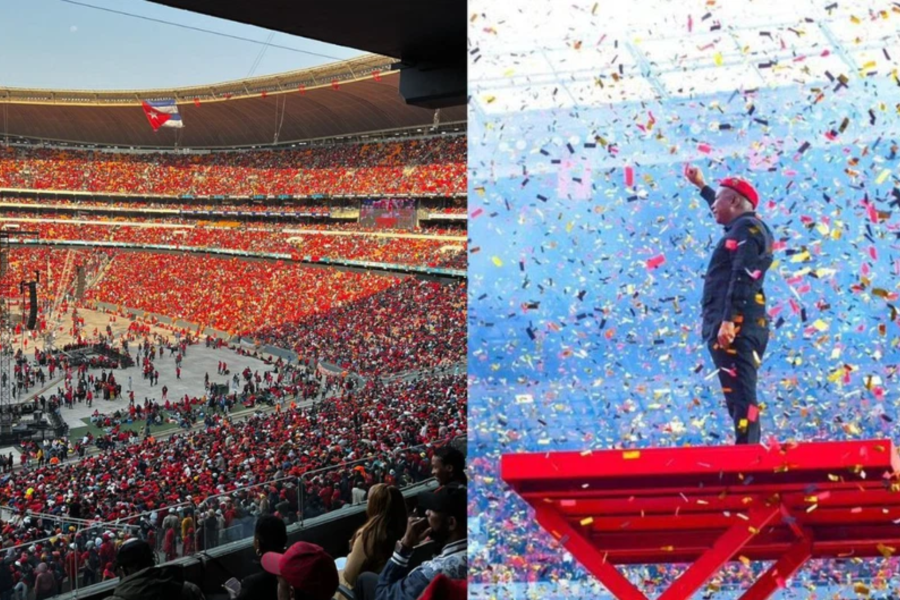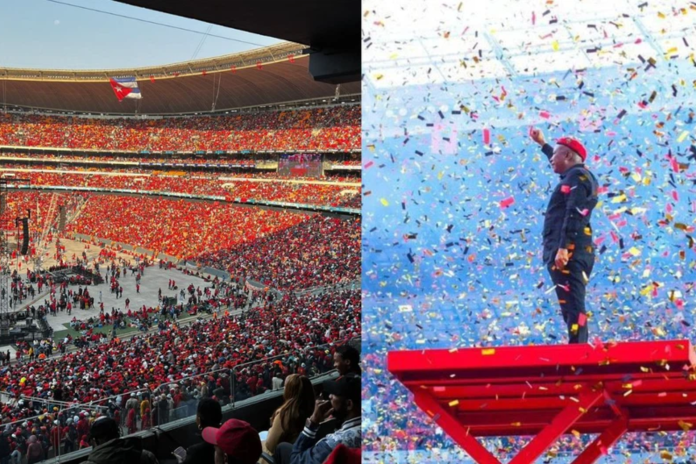 The Economic Freedom Fighters (EFF) said it would pay for the funeral expenses of the supporter who fell to his death at the FNB Stadium Saturday.
THE EFF WILL BE PAYING FOR THE FUNERAL EXPENSES OF THE SUPPORTER
An EFF supporter died after allegedly falling from level five to level two of the stadium's stands on Saturday night during the party's 10th birthday celebrations.
The FNB Stadium in Johannesburg was painted red with thousands of people.
ALSO READ: Here is what EFF Julius Malema said during the celebrations
THE EFF SUPPORTER FELL FROM LEVEL FIVE TO LEVEL TWO
It is believed the man was dancing when he fell.
According to reports, the incident allegedly took place around 16:30 after EFF leader Julius Malema delivered his speech.
ALSO READ: EFF supporter falls to death at FNB Stadium during 10th birthday celebrations
IT IS BELIEVED THE MAN WAS BUSY DANCING WHEN HE FELL
Meanwhile, the EFF spokesperson Sinawo Tambo said the party is aware of the unfortunate passing of the man.
"We send our deepest condolences to the family and loved ones of the deceased, and pray that his soul rests in eternal peace.
"The leadership of the EFF will visit the family of the deceased, and take care of all funeral arrangements in honour of his life, as someone who formed part of the historic celebration of our movement."
THE EFF WILL BE TAKING CARE OF ALL THE FUNERAL ARRANGEMENTS
The party's supporters – the majority of whom seem to be young people came from all corners of the country to commemorate ten years of the EFF's existence.
EFF leader Julius Malema spoke about several issues and their plans for the next year.
ALSO READ: IN PICTURES: EFF celebrates 10th anniversary at FNB Stadium
Police spokesperson Mavela Masondo said an inquest docket was opened.
POLICE ARE INVESTIGATING THE INCIDENT
"Police have opened an inquest docket for investigation after a man allegedly fell from level five to level two and died at FNB Stadium in Johannesburg in the evening of Saturday, 29 July 2023.
"It is alleged that the victim was dancing when he suddenly fell. The police have obtained statements from the witnesses and the investigation is continuing."
THE STADIUM WAS PAINTED RED, WITH THOUSANDS OF PEOPLE ATTENDED
"Only the EFF can protect the provision of electricity. We are not opposed to 'just transition' (from coal to greener energy), but we will not close our coal power stations until a 'just transition' produces equivalent megawatts to the same power stations you want us to close.
"We are not going to sell our coal to anyone if you say we can't use coal yet. You want to sell it and take it to your country. No one must take coal from South Africa if they can't allow us to use coal." – Julius Malema
ALSO READ: Trending Twitter video: 360 view of the FNB Stadium, EFF celebrates their 10th Anniversary