A hauntingly beautiful South African puppet play
made its UK premiere at the Edinburgh Fringe in Scotland yesterday, one of the most important and largest performing arts festivals in the world. The play – The Life and Times of Michael K – features hand-made life-like puppets and well-known South African stars including Sandra Prinsloo, Andrew Buckland and Faniswa Yisa.
The dream of Handspring Puppet Company
The play has been created by SA's award-winning Handspring Puppet Company. It's the culmination of a 30-year dream Handspring co-founder Adrian Kohler has held… to adapt his favourite JM Coetzee novel into a puppet play.
The story of Michael K
Collaborating with playwright and director Lara Foot, the story revolves around Michael K, a man born into poverty with a cleft lip and a simple mind. His journey as an outsider is portrayed brilliantly through puppetry. When he grows up, he becomes a gardener living a simple life. Foot told the BBC the character is "essentially an individual who sets an example in terms of how little we need to survive happily".
Audience's raving reviews
Audiences so far – from The Baxter theatre in South Africa to the Galway Festival in Ireland – have RAVED about the production, which also includes film and evocative music. Earlier this year it won Fleur du Cap Best Production and Best Puppetry Design.
Fahiem Stellenboom, Marketing Manager at the Baxter Theatre, proudly announced "we are back at the Edinburgh Festival Fringe, with the epic flagship production, JM Coetzee's Life & Times of Michael K, adapted for the stage by Lara Foot, in collaboration with the Handspring Puppet Company and featuring a stellar cast and crew. This follows its recent triumph at the Galway International Arts Festival, with sold out houses and standing ovations."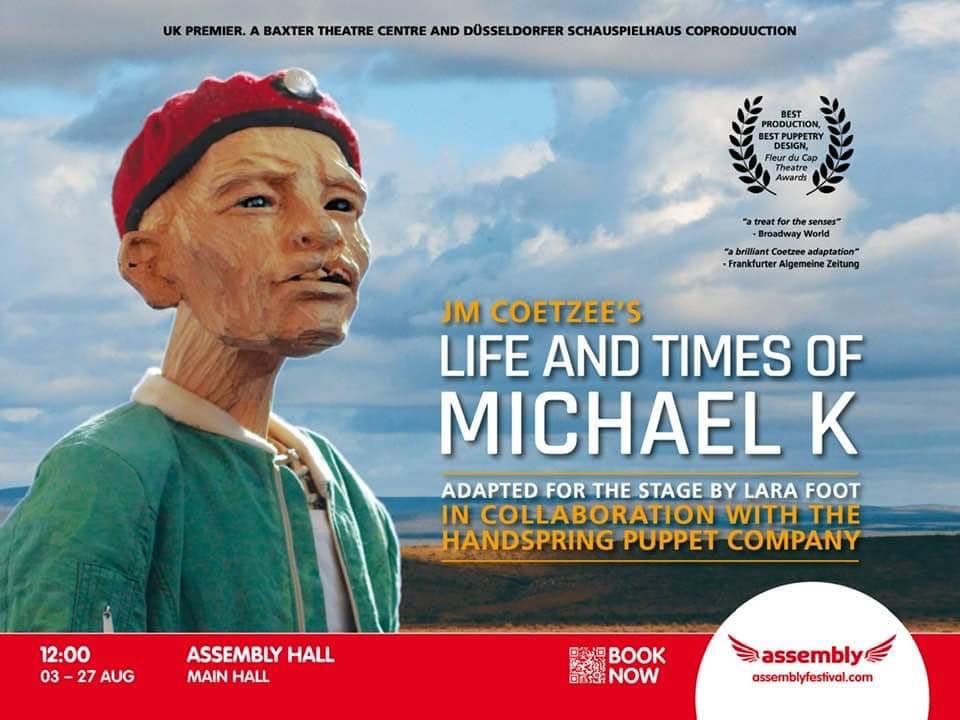 Praise from critics
Stellenboom shared some of the international praise from critics which include 'Epic…amazingly crafted puppetry…this is magic realism and magical staging' from The Irish Times, and 'Exquisite puppetry…immense artistry. A sweeping adaptation…majestic' from The Guardian.
The puppetry masters
Kohler and his husband Basil Jones are world renowned for their puppetry – including Little Amal (the 12-foot refugee puppet who has been 'walking' around the world) and the immensely popular War Horse. In June this year, they were bestowed with honorary degrees from the University of Toronto Mississauga, highlighting their massive contribution to the arts and ability to inspire people from different cultures around the world.
Don't miss the outstanding performance
If you're a South African living in Scotland, or travelling to Edinburgh this month – don't miss this outstanding performance at the Assembly Hall from today (4 August) to 27 August, at 12pm daily.
P.S. SA comedian Schalk Bezuidenhout is also performing at the Edinburgh Festival this month!