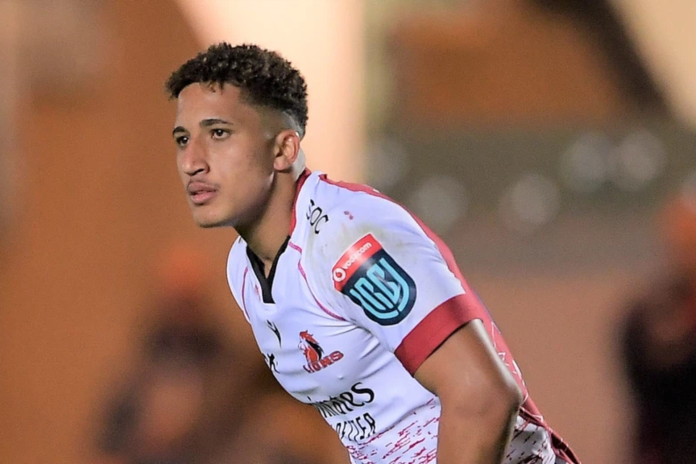 Jordan Hendrikse is reportedly set to leave the Lions in a bid to take his career to the next level.
Sadly for the ailing franchise, this has become a must for any player of quality at the Lions.
However, it should be very good news for both the Sharks and the Springboks who are both stuck in a flyhalf crisis.
ALSO READ: Wallabies beating All Blacks would be a massive favour for Springboks
JORDAN HENDRIKSE IS A FUTURE SPRINGBOK FLYHALF
The Sharks No 10 jersey has usually fallen to Curwin Bosch as the default but the coastal franchise would likely get better use out of the versatile utility back at 15.
As for the other options, the Sharks have steady but unspectacular pivots Boeta Chamberlain and Lionel Cronje neither of whom are terribly likely to receive a call from Jacques Nienaber any time soon.
Hendrikse, meanwhile will reunite with his brother to form a halfback pairing of siblings at the Sharks while he will likely also get accustomed to playing with another Springbok 9 candidate in Grant Williams.
ALSO READ: New captain to lead All Blacks in Bledisloe battle against Wallabies
There won't be a massive difference in the service he receives from his scrumhalf given that the Lions are at least quite well stocked when it comes to 9s although Sanele Nohamba's passing game has not progressed like anyone hoped it might as he still throws the odd wild pass to nobody in particular.
The Sharks should benefit from having a classical flyhalf in the traditional mould to marshall an exciting backline behind an equally dynamic pack of forwards.
A lack of consistency from his teammates at the Lions has so far prevented Hendrikse from throwing his hat into the ring for the Springbok 10 jersey.
STEPPING UP
Hendrikse needs to be playing for one of the big three teams and the franchise that appears to be the best fit for the young 10 is nestled in the bustling city where he learned his rugby.
A solid goal-kicker who runs the game well, Hendrikse could fulfill his potential at the Sharks and bolster the Springboks depth in a crucial position.