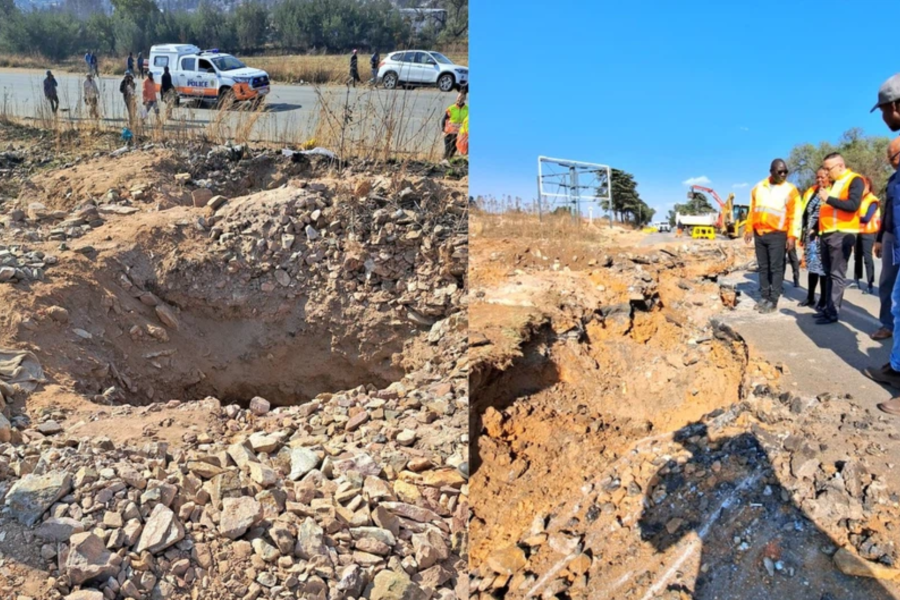 The Johannesburg Roads Agency (JRA) has announced the closure of a major road in Roodepoort due to multiple sinkholes formed by illegal mining activities in the area.
JRA CLOSES MORE LANES AFTER MULTIPLE SINKHOLES DEVELOPED
In a statement, JRA confirmed the temporary closure of three lands on Miles Stoker Road in Roodepoort to traffic for the safety of road users after inspections revealed deep excavations by illegal mining activities which have compromised the road's structure.
"This closure today follows the closure of only one lane last night." – JRA
Miles Stoker road closure : Sinkhole due to illegal mining activity

The Johannesburg Roads Agency (JRA) has, with immediate effect, closed one lane of Miles
Stoker Road in the Roodepoort direction due to a sinkhole which has developed because of illegal
mining activity in the… pic.twitter.com/h0Lxw3hCZY

— City of Joburg (@CityofJoburgZA) July 26, 2023
ILLEGAL MINING PROVEN TO BE THE CAUSE
JRA acting CEO Zweli Nyath said, "The safety of road users is paramount and although JRA only closed one lane last night, today's investigations exposed extensive tunnelling and several sinkholes that have formed, compromising the road's integrity which could result in the road's total collapse".
"As a result, the entire road has been closed today for further assessments and remediation measures," he added.
ALSO READ: JHB CBD gas line explosion blamed on illegal miners (Zama Zamas)
ALTERNATIVE ROUTES FOR ROODEPOORT MOTORISTS
JRA has advised motorists to utilise the following alternative routes when travelling to and from Roodepoort:
approaching from the west (Randfontein) make use of Gustav Street and Mare Street.
approaching from the east (Johannesburg), turn at Westlake Road and use Albertina Sisulu.
approaching from the south make use of Gustav Street, Mare Street or Roodekrans Road, Lyon Street.
approaching from the north, make use of Albertina Sisulu and Westlake Road to travel east towards Johannesburg or Mare Gustav Street to travel west.
ALSO READ: DA urges provincial government to tighten grip on illegal mining
"All motorists are advised to make signalised intersections along the R41 (Main Reef Road) at either Gustav Street or Westlake Road to execute right turn movement," said Nyathi, adding that motorists are further advised to plan ahead and where possible check for alternative routes and plan travel times accordingly.
ALSO READ: LATEST as Joburg CBD gas explosion marks SEVEN (7) days