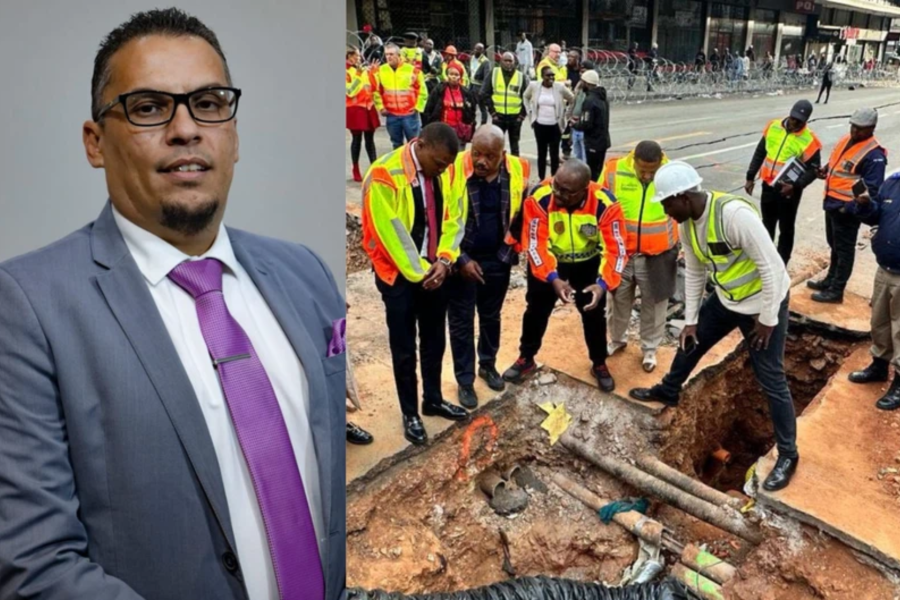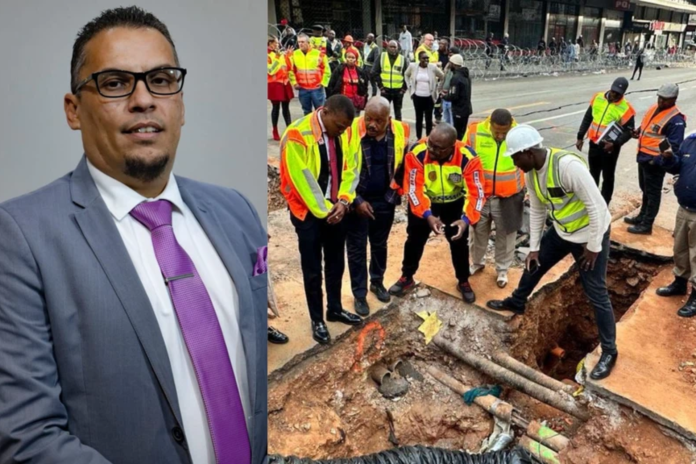 Having spent R4 million in professional experts' services to determine the cause of the Joburg CBD explosion, the City of Johannesburg is now estimating to spent over R100 million on repairs.
CITY MANAGER FLOYD BRINK LAYS DOWN REPAIR EXPENSE
During the press briefing earlier today, City Manager Floyd Brink said their rough estimate for repairs currently sits at R178 million.
"This estimate might change once we receive the detailed designs for the entire project."

Brink
ALSO READ: Joburg CBD explosion findings rule out negligence, eGoli gas, zama zamas
In the interest of transparency, he said it is important to report to residents of Johannesburg that the City has so far spent around R4 million in this project on professional experts' services, cording off the site, technology used and the provision of temporary relief services in a form of Water tankers and temporary ablution services.
"A lot of lessons were learned following this unfortunate incident. In order to avoid future recurrence, the tunnel design will be upgraded based on current international codes for tunnels to reduce the risk and severity of explosions," he explained.
STATEMENT BY THE CITY MANAGER OF JOHANNESBURG ON THE GAS
EXPLOSION IN JOHANNESBURG

02 August 2023

Today, we received a report from the Service Provider undertaking investigations into the cause of the gas explosion that occurred on Lilian Ngoyi Street (formerly Bree Street).… pic.twitter.com/JdE7Oru73E

— City of Joburg (@CityofJoburgZA) August 2, 2023
MECHANISM TO AVOID ANOTHER JOBURG CBD DISASTER
He also added that they will also introduce continuous gas detection and alarms and gas detector sensor monitors for all staff working the tunnels regularly.
"Our tunnels design will be based on International relevant Standards i.e. NFPA Standards (NFPA 68, 69, 502, 921, etc.) for tunnels and fire and explosion preventions with accidental combustible gas release in tunnels or cavities.
"Detection based on NFPA 72 Standard rest will be based on South African relevant standards SANS for water, sewer, and road designs. Tunnel roof and sidewalls will be designed to withstand and depressurize with deflagration vents a 9.5% Methane explosion. Suitable materials for the tunnel would be reinforced, concrete side walls and roofs designed for this over-pressure and release," Brink explained.
ALSO READ: AARTO Act expected to improve driver behaviour
THE NEED FOR SPECIALISED EXPERTS IN COUNCIL
"The existing technical skills employed in the City of Johannesburg are more than capable of conducting the duties and activities associated with their positions and skills but may at time be limited during other major incidents prompting the City to acquire the best available knowledge," Brink defended the City's competence to handle such disasters in future.
ALSO READ: BREAKING: Methane gas caused deadly JHB explosion