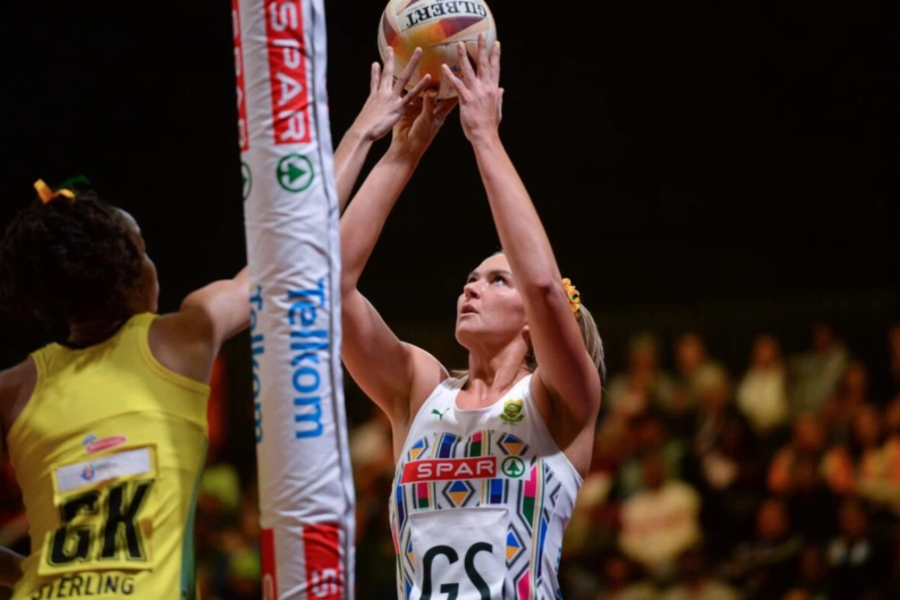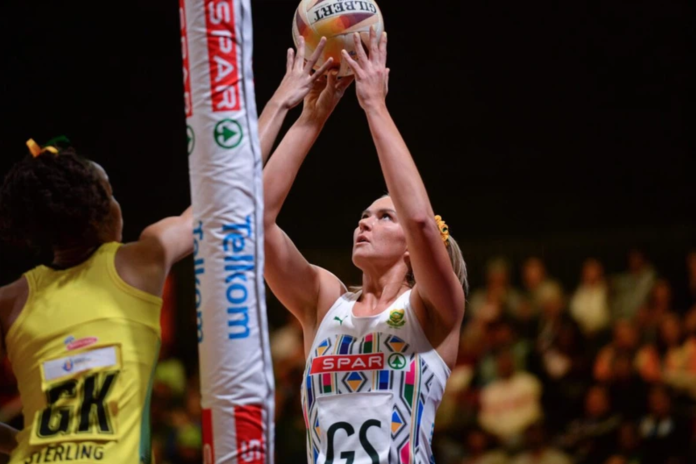 In a major setback for the South African netball team, prolific goal shooter Lenize Potgieter has been ruled out of the remainder of the NWC2023 due to a knee injury. Potgieter's absence leaves the Proteas with a reshuffled lineup and creates challenges for the team ahead of crucial matchups.
POTGIETER JOINS NWEKE ON THE SIDELINES
In a disappointing turn of events for the South African netball team, they have suffered a significant setback with the loss of their sharpshooter, Lenize Potgieter, due to knee issues. This unfortunate news comes in the aftermath of New Zealand's Grace Nweke being ruled out of the tournament on Monday morning. Potgieter, who was unable to participate in the opening two rounds of the World Cup, finally made her NWC2023 debut against a strong 'Sunshine Girls' outfit. Despite heavily strapping both knees, she showcased her determination by playing three quarters against the relentless defender Shameera Sterling. However, her valiant efforts were cut short, and her absence will surely be felt by the Proteas.
𝗠𝗮𝘁𝗰𝗵 𝗥𝗲𝗽𝗼𝗿𝘁
🇯🇲🆚🇿🇦

"No one wants to lose but there are lessons we are taking out of this – the journey doesn't stop here, we have a few more games to go and anything can happen from here onwards." – Norma Plummer

👉 https://t.co/fjUk9ZvQFE#SPARProteas | #NWC2023 pic.twitter.com/FhVly4znB0

— Netball South Africa (@Netball_SA) July 30, 2023
NGUBANE TO REPLACE POTGIETER
To address the absence of Lenize Potgieter, South Africa has called up reserve Owethu Ngubane to join the Proteas squad. Ngubane, who made her World Cup debut against Trinidad and Tobago, has shown promise and potential during her limited appearances. While filling Potgieter's shoes is a challenging task, Ngubane's talent and determination make her a valuable addition to the team.
A moment to remember for Owethu Ngubane who made her #NWC2023 debut tonight 🥺👏#HereForHer pic.twitter.com/lT6XPT4OLf

— SuperSport 🏆 (@SuperSportTV) July 31, 2023
VENTER TO STEP UP
In the absence of Potgeiter, the in-form Ine-Marí Venter has a golden opportunity to shine as a key player for the Proteas. Venter's outstanding partnership with Taljaard and her experience in England's Netball Superleague, playing for Saracens Mavericks, make her a formidable contender for the first-choice shooter position. However, she faces competition from Elmerè van der Berg, whose temperament will be closely scrutinized as the potential rival for the goal shooter position.
ALSO READ: Nweke out with injury, SA hopes alive – NWC2023 Update
PROTEAS LINE UP RESHUFFLE
With Lenize Potgieter's injury causing a reshuffled attacking lineup for the Proteas, the onus falls to Ine-Marí Venter to step up as the first-choice goal shooter. Nichole Taljaard's exceptional back-to-back MVP performances make her a vital component in the new setup, retaining her position as the starting goal attack. Meanwhile, Elmerè van der Berg will drop to backup goal shooter, as rookie Ngubane will be a competent goal attack alternative. Coach Norma Plummer has her hands full for the remainder of the NWC2023.
🇿🇦🆚🇹🇹 Well done Nichole Taljaard our 𝗠𝗩𝗣! On goal attack and shooter against TnT today ! 🙌🔥#SPARProteas |