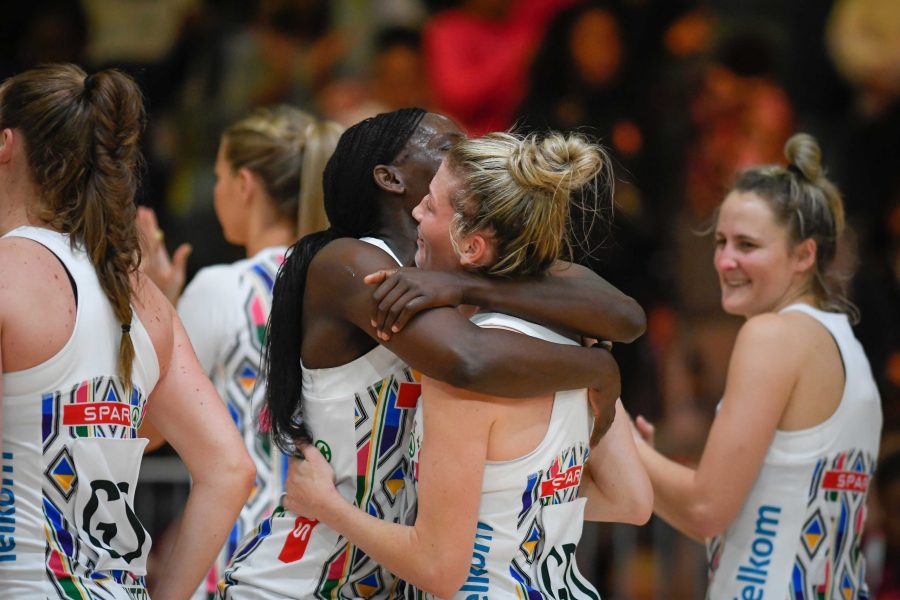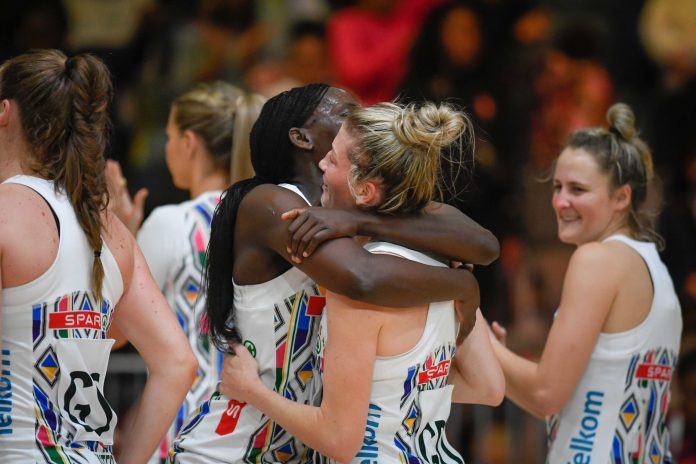 Cape Town International Convention Centre was packed with cheering local fans as South Africa crushed Sri Lanka 87-32 at the Netball World Cup 2023 on Saturday. Taking to the court in brightly coloured Ndebele-inspired dresses the South African starting line-up looked a little different from the one that beat Wales a day earlier.
Elmeré van der Berg got another chance, this time moving to goal shooter, with Nichole Taljaard moving to goal attack. Izette Griesel started on centre in the place of Khanyisa Chawane and Nicola Smith got the nod at goalkeeper ahead of Karla Pretorius.
For Sri Lanka, there was no Tharjini Sivalingam, who, at 2.06 metres is the tallest player at this year's World Cup. At the age of 44, she is also the oldest.
South Africa shut out any Sri Lankan playmaking from the get-go while stamping their authority on proceedings. The Proteas' opponents were frustrated with their inability to have any say in the one-sided match, with wing defence Bhashini De Silva copping a caution towards the end of the first quarter.
Sri Lanka could not score consecutive goals as especially Griesel managed to intercept numerous balls. Griesel, playing in her third Netball World Cup, had a solid game at centre, and the same went for Jeanté Strydom who made her Proteas debut against Wales. She deservedly walked away with the award for most valuable player. South Africa went into the halftime break 45-18 up.
Pretorius earned her 100th cap for South Africa when she came on in the third quarter, replacing Shadine van der Merwe at goal defence. Captain Bongi Msomi also got a well-deserved break with Chawane putting on the centre bib and Griesel moving to wing attack.
The Proteas piled even more pressure on Sri Lanka, adding 23 goals in the third quarter and stretching their lead to 44.
In the last 15 minutes, Ine-Marie Venter, the most valuable player against Wales, assumed the goal shooter position, earning her 50th cap while Phumza Maweni came off the bench to resume her defensive partnership with Pretorius.
With nine minutes to go, South Africa stretched their lead to 50 points for the first time. They then seemed to take their foot off the pedal somewhat with the victory secured and not wanting to risk serious injury ahead of what promises to be a pulsating affair against Jamaica on Sunday.
Pretorius said it was fantastic celebrating a milestone like a 100th cap for one's country on home soil as well as in front of family and friends.
"The highlight of my career must be the 2019 World Cup where I got the player of the tournament award. And then earlier this year the Quad series [against New Zealand, Australia, England] when I returned after having my daughter Kara, putting in the hard work to get out on court again," she said.
A beaming Strydom said she's never felt prouder in her life.
"I'm sitting here next to three legends of the game, 100 caps and 160 caps [for Pretorius and Msomi] and Norma on her 100th win yesterday. With me only on two caps, this is the best feeling in the world, and I can't actually describe how I'm feeling, it's overwhelming."
SCORES:
Q1: 24-9
Q2: 45-18 (21-9)
Q3: 68-24 (23-6)
Q4: 87-32 (19-8)
MOST VALUABLE PLAYER: Jeanté Strydom
Source: TeamSA