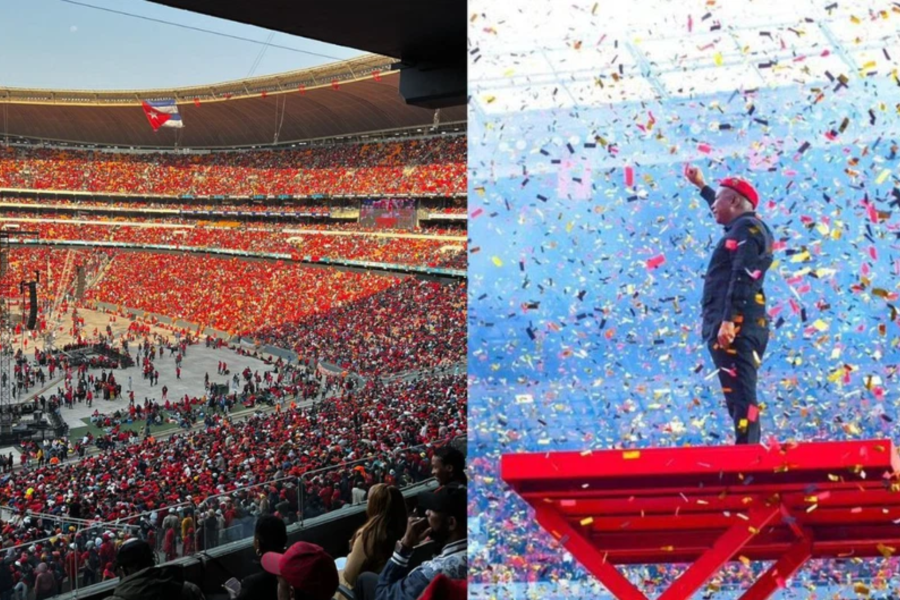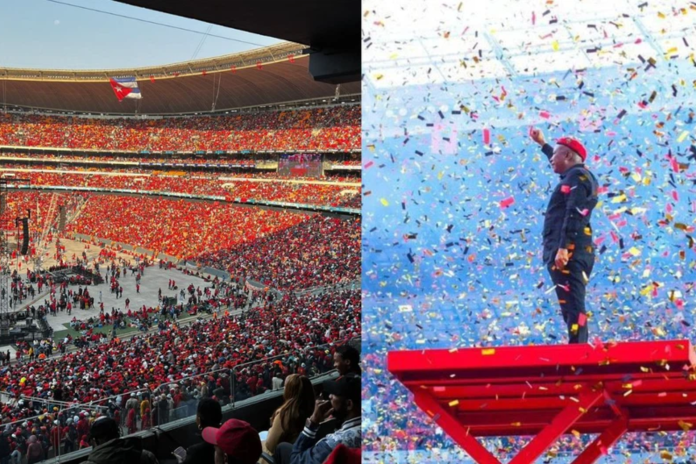 The FNB Stadium in Johannesburg was painted red with thousands of people in Economic Freedom Fighters (EFF) regalia as the party celebrated its 10th birthday anniversary.
HERE IS WHAT EFF JULIUS MALEMA SAID
The party's supporters – the majority of whom seem to be young people came from all corners of the country to commemorate ten years of the EFF's existence.
EFF leader Julius Malema spoke about several issues and their plans for the next year.
ALSO READ: IN PICTURES: EFF celebrates 10th anniversary at FNB Stadium
THE STADIUM WAS PAINTED RED, WITH THOUSANDS OF PEOPLE ATTENDED
"Only the EFF can protect the provision of electricity. We are not opposed to 'just transition' (from coal to greener energy), but we will not close our coal power stations until a 'just transition' produces equivalent megawatts to the same power stations you want us to close.
"We are not going to sell our coal to anyone if you say we can't use coal yet. You want to sell it and take it to your country. No one must take coal from South Africa if they can't allow us to use coal." – Julius Malema
ALSO READ: Ramaphosa declares Africa-Russia relations can move forward after 'most successful' meeting
African Pride📍This is for History Books pic.twitter.com/zxD72Aj8KI

— African (@ali_naka) July 29, 2023
ONLY THE EFF CAN SOLVE LOAD SHEDDING
Meanwhile, (EFF) deputy president Floyd Shivambu dismissed claims that divisions are brewing between him and party leader Julius Malema saying they are "blood brothers."
His most fiery criticism was aimed at the ANC's Gauteng leadership, specifically the decisions made by Premier Panyaza Lesufi.
ALSO READ: Journalist allegedly harassed, forced to delete work by EFF officials
THE MOMENT!!#EFF10thAnniversary pic.twitter.com/Zkonxy0o6f

— Economic Freedom Fighters (@EFFSouthAfrica) July 29, 2023
MEANWHILE, FLOYD DISMISSED CLAIMS OF DIVISIONS ARE BREWING
The 2024 elections are seen as pivotal by many political parties and commentators because of an expectation that the ANC could face its toughest test and a likely decline in support.
"When we take over as the EFF, all of you who are unemployed and you don't have your results because you owe fees, you must know we are going to cancel all your debt and give you your results free of charge. We want a child from a shack to go to the best of the best university. We will work with Cuba to establish quality primary healthcare." – Julius Malema
THE EFF IS THE THIRD-LARGEST POLITICAL PARTY IN SA
ALSO READ: LOOK: Available parking at FNB Stadium for EFF 10th anniversary celebration
The EFF which is the third-largest political party in South Africa describes itself as a radical and militant economic emancipation movement that was formed with the aim of bringing together revolutionary, militant activists, community-based organizations as well as lobby groups under the umbrella of the political party pursuing the struggle of economic emancipation.
ALSO READ: Roads affected by EFF 10th anniversary celebration at FNB Stadium